Alaska 2023
Alaska Cruises & Alaskan Cruisetours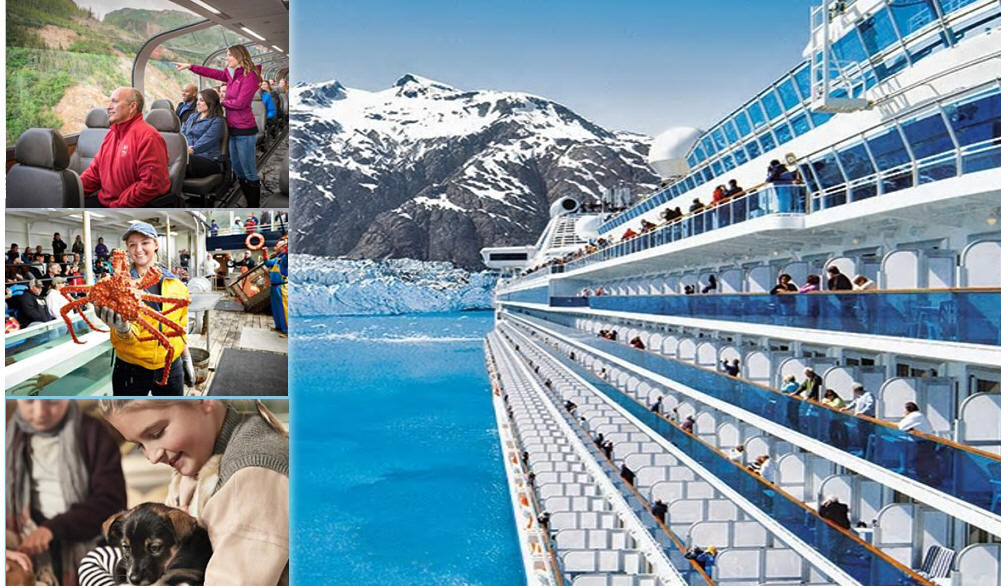 "Alaska Cruise Advisors deliver an unmatched Alaska vacation for an unbeatable value. Their recommended deluxe cruise package stand out above the competition in both quality and cost, delivering a truly all inclusive Alaskan experience that will turn your travel moments into lifetime memories".
glaciers
On a vacation full of adventure, one of the greatest highlights is viewing glaciers from the comfort of your ship. Every voyage features at least one day viewing glaciers, and many have two scenic days, including Glacier Bay National Park. With park rangers providing insights into how these natural wonders are formed, your perspective is beyond compare. Enjoy open views on deck or from the privacy of your own balcony and, if the timing is right, marvel over the spectacle of ice chunks shearing off a glacier crashing into the waters below with a thunderous roar. Exciting excursions in port bring you even closer to glaciers as you hike, ride a dog sled or soar over the ice in a helicopter

wildlife

A camera, a pair of binoculars and a sense of curiosity are all you need to
get the most out of your adventures in Alaska. From the waters to the land, this scenic backdrop is teeming with wildlife. The ship deck or your balcony are perfect spaces to spot whales breaching out at sea. An excursion through Tongass National Forest reveals bald eagles flying overhead and black bears feeding on salmon from rushing streams. Choose a cruisetour that includes a visit to Denali National Park, the 6-million-acre home to the Big Five: grizzly bears, moose, wolves, Dall sheep and caribou.

mountains

Anchored by immense mountains, Alaska is practically defined by its towering peaks. See them from every angle as you sail past rugged shores or travel on land in a glass-domed rail car. Incredibly, 12 of the 13 highest summits in the U.S. are located in Alaska — all dominated by Denali, North America's tallest peak at 20,310 feet. Denali National Park is home to the tallest mountain in North America, Denali at 20,310 feet, as well as over six million acres of diverse wilderness. This includes the famous Big Five - grizzly bears, moose, wolves, Dall sheep and caribou. With only one park road, nature exists as it has for thousands of years, and your visit offers a glimpse into an era that most can't imagine, even in their wildest dreams. The Great Room at Mt. McKinley Princess Wilderness Lodge ® is an ideal place to view the Alaska Range, and to learn more, you can attend our "Meet the Mountain Climbers" presentations at the lodge's Hudson Theater
_______________